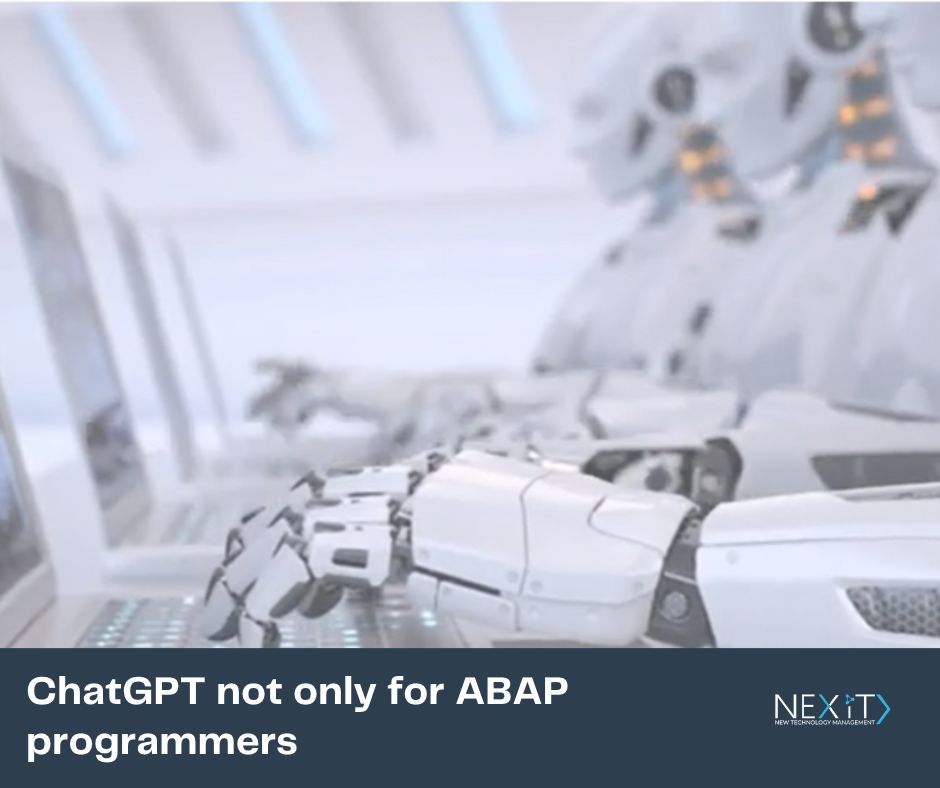 ChatGPT not only for ABAP programmers
February 13, 2023
What does "Human Review" mean?
The constant evolution of Artificial Intelligence – think of ChatGPT recent success – has sparked off intense debate about the man-vs-machine relationship, and the possibility of the latter replacing the former.
However, AI is by definition not capable of replacing human beings. It seems clearer and clearer that machine intelligence (artificial intelligence) and human intelligence (authentic intelligence) should not compete – they are rather complementary. 
This has led to a paradigm shift in recent years. The machine is not seen as a way to replace human activity, but as a way to integrate it by taking charge of repetitive tasks. Let's think of the business context: AI is definitely capable of handling ordinary documentation on an ongoing basis. As a consequence, human operators could take on exceptional documentation, creative tasks, and simple supervision of what the machine does. 
This is what we call Human Review. Many international and valuable AI players have been introducing the possibility of having machine-completed tasks reviewed by human beings. Amazon for instance has introduced a Human Review section with the aim of checking machine-analyzed documents and machine-translated texts.
Human Review for Nexit customers
AIutino, our cloud native AI service, includes a Human Review system, too. How does it work?
AIutino results come out with a percentage, which represents the degree of certainty AIutino has generated the outcomes with.

Our client has a chance to check either all documents, or the documents with a lower percentage of confidence (eg 97% instead of 99%). The client could also carry out spot  checks.  

By accessing our platform, it is indeed possible to compare the original document with the information extracted by AIutino. No download is required, the format is user friendly.

Once checked the machine outcomes, the user could sum up the experience by marking the document as "checked", by selecting a "right" or "wrong" box, and by adding a note describing any error that might have occurred. 
Our clients can therefore enjoy the so-called workplace new diversity. Integrating human and machine workers enhances each one's capabilities, while leaving the actual governance of the system to humans.
By the way… Guess who created this article illustration!
Request a free demo of AIutino!